8 Inch Round Chocolate Cake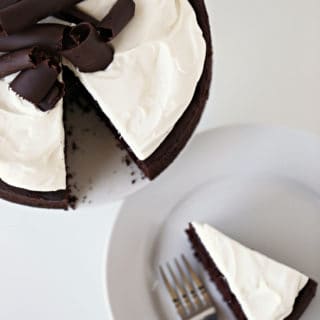 ½ cup butter, softened (not melted but soft. I put in microwave on defrost for 30-second intervals twice)
¾ cups granulated sugar
1 teaspoons vanilla
1 egg
1 cup all-purpose flour
¼ cup dutch process cocoa
½ teaspoon baking soda
½ teaspoon salt
¼ cup buttermilk (or ½ cup milk and 2 teaspoons vinegar blended)
¼ cup hot coffee (or boiling water)
1 cup cold heavy whipping cream
2 tablespoons dry milk- this stabilizes the whipped cream so it doesn't separate and it tastes great too.
1 tablespoon powdered sugar
½ teaspoon vanilla
Preheat oven to 350°.
Prepare an 8" round cake pan with a baking spray or oil and flour pan, so the cake releases easily (I use Baklene)
In a medium bowl add butter and sugar and whisk until well blended.
Add in vanilla and egg and whisk to combine.
Add in cocoa, baking soda, salt, and stir in flour
Add in buttermilk and stir,
then add in coffee and whisk until smooth.
Pour batter into prepared baking pan (wrap with a wet baking strip to bake cake evenly)
Bake at 350° for 33-35 minutes or until a toothpick comes out clean.
Remove cake from oven and allow to cool for 10 minutes then place wax paper over the top of the cake to turn cake onto a cooling rack.
Cool cake completely before applying any frosting.
Spread whipped cream over cake and top with chocolate curls, sprinkles or chocolate chips for an easy decorated cake.
heat chocolate chips with coconut oil spread on the back of an ice cold baking sheet (that has been in the freezer for a few minutes) then press a metal spatula or bench scraper to create the curls.
Place curls on top of whipped cream and serve.
After frosting cake with whipped cream and topped with the chocolate place in the fridge if not serving soon. Can be made ahead and refrigerated, then taken out of the fridge at least 29 minutes before serving so it can begin to come to room temperature.
A cake that is served immediately or within a few hours even if refrigerated will be soft and fluffier than a cake that has been refrigerated overnight as the cake will become denser. So depending on how you like your cake you'll know when to frost your cake and serve it to your liking.
Recipe by
Created by Diane
at https://www.createdby-diane.com/2019/02/8-inch-round-chocolate-cake.html