Brown Butter Bakery Chocolate Chip Cookies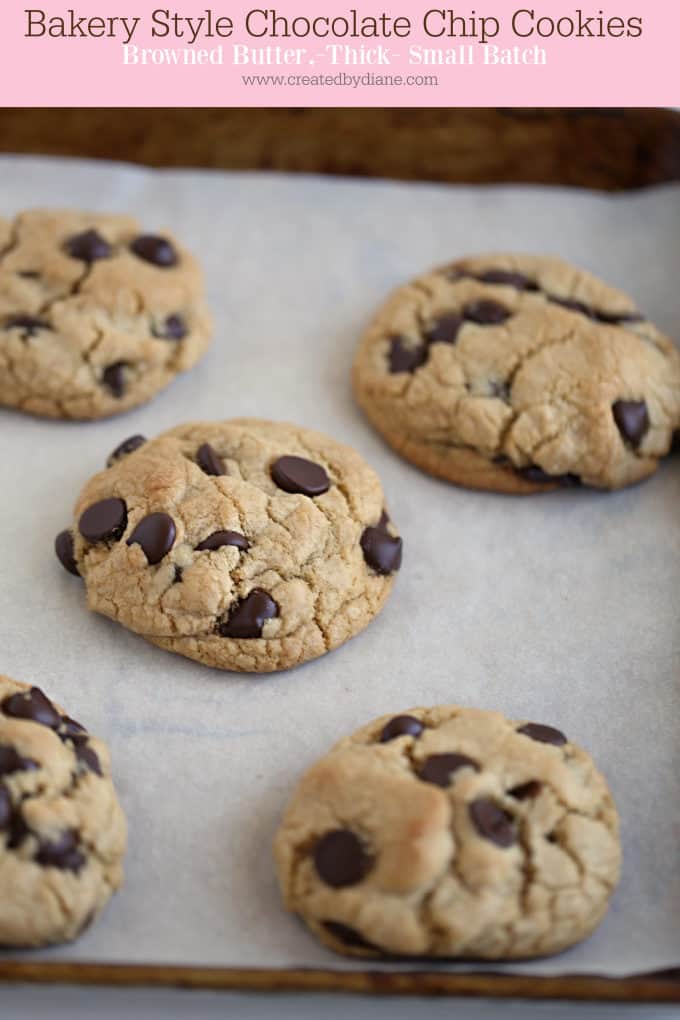 1/2 cup butter, (browning instructions below)
1/2 cup brown sugar
1/2 cup granulated sugar
1-1/2 teaspoons vanilla
1 egg
1-1/2 cups all-purpose flour
2 teaspoons cornstarch
1/2 teaspoon baking powder
1/2 teaspoon baking soda
1/4 teaspoon salt
1-1/4 cups chocolate chips (I use Ghirardelli 60% chips, they are larger than most)
In a skillet, you'll brown the butter by cooking it until it bubbles and becomes golden brown over medium heat. Stir while browning so it does not burn.
Place butter, brown sugar and granulated sugar in a bowl and whisk.
Add in vanilla and egg and mix to combine.
Add in flour, cornstarch, baking powder, baking soda, and salt and mix completely.
Stir in chocolate chips.
Portion out the dough into 1/4 cup measuring cup, then roll it slightly into a cylinder shape so the dough is taller than wider.
(the dough is a bit crumbly but comes together as soon as you roll it)
Place dough on a parchment lined baking sheet allowing plenty of room for the cookies to spread as they bake without touching.
Bake at 350° for 18 minutes or check to be sure the cookies are not gooey with a toothpick and the edges are getting slightly firm.
Remove baking sheet from oven and allow the cookies to cool on baking sheet, they will continue to cook and firm up nicely.
The cookies have a lightly crisp exterior with a soft chewy inside, if you like your cookies gooey, remove them from the oven after 15 minutes.
This recipe can be made with room temperature butter. Just mix it well with both sugars as instructed in the recipe.
Recipe by
Created by Diane
at https://www.createdby-diane.com/2019/03/brown-butter-bakery-chocolate-chip-cookies.html