Korean Beef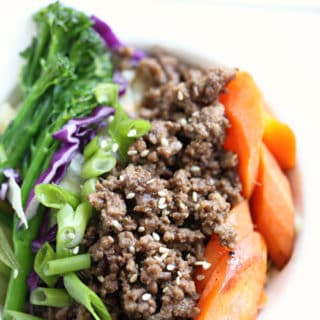 2 lbs lean ground beef (I use 90/10)
¾ cup brown sugar
⅓ cup soy sauce
2 tablespoons garlic paste
1 tablespoon sesame oil
2 teaspoons sriracha
6 drops chili oil
1 teaspoon dry ginger
½ teaspoon crushed red chili flakes
In a skillet, brown the ground beef.
In a small bowl mix the brown sugar, soy sauce, garlic, sesame, sriracha, chili oil, ginger, and crushed pepper.
Pour the sauce over the ground beef and stir to coat the beef well until it's heated thoroughly.
Serve hot.
It's delicious over rice, cabbage, carrots, broccoli or noodles. Top with sesame seeds, slivered red cabbage, and diced green onions.