Garlic Rosemary Chick Peas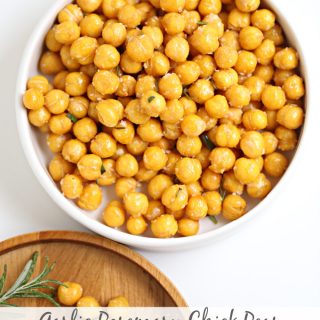 1-15 oz can chickpeas (garbanzo beans)
1 teaspoon oil (avocado oil, olive oil, or vegetable oil)
1 teaspoon garlic paste (or 1/2 teaspoon garlic powder)
1 tablespoon fresh chopped rosemary
1/4 teaspoon coarse salt.
Rinse chickpeas, toss chickpeas with oil and garlic.
Place chickpeas on a baking sheet or in the basket of an air fryer.
Bake in the oven at 425° for 25-30 minutes
or cook in the air fryer at 400° for 12-15 minutes or until they are crunchy.
Halfway through cooking time toss the chickpeas so they roast evenly and add rosemary and salt at this time.
Finish cooking and serve warm or cooled.
Recipe by
Created by Diane
at https://www.createdby-diane.com/2021/04/garlic-rosemary-chickpeas.html