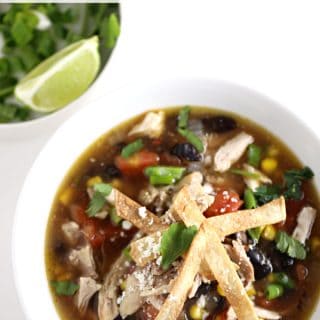 2 lbs cooked boneless skinless chicken thighs
1 cup diced onion
1 jalapeno, diced
2 teaspoons oil
6 cups chicken broth (or water and chicken bouillon)
1 can diced tomatoes
1 teaspoon chili powder
½ teaspoon oregano
½ teaspoon cumin
1 can black beans
1 cup frozen corn
add salt and pepper to taste
toppings
fresh cilantro
green onions
fresh lime
tortilla strips air fried or tortilla chips
cotija cheese
In a 6qt pot saute the onion and jalapeno with 2 teaspoons of oil.
Add in the chicken broth, diced tomatoes (along with juice in the can)
If you are using raw chicken, cut it into small pieces add the chicken now (If using cooked chicken like I did add it at the end.
Add the chili powder, oregano, and cumin.
Once the soup comes to a boil over medium heat, add the corn and black beans and cooked chicken.
Add salt and pepper to taste.
Ladle the soup into bowls and top with cilantro, diced green onions, lime juice, and tortilla chips and cheese.