Creamy Chicken Stew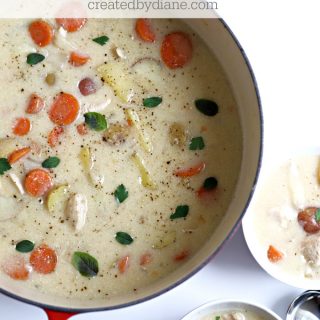 2 tablespoons butter
1 cup diced onion (1 medium sized onion)
3 chicken breasts (about 2 lbs) cut into 1" pieces
1 1/2 pounds small potatoes (I used red and Yukon Gold)
4 cups chicken broth, or water and chicken bouillon
3 carrots, sliced
2 cups whole milk
3 tablespoons cornstarch
1 teaspoon salt
1/4 teaspoon black pepper
1/2 teaspoon oregano
In a 6 qt pot saute butter with onion.
Then add in chicken pieces and potatoes.
Pour in chicken broth and bring to a simmer.
Add carrots.
Add the cornstarch to the milk and slowly add it to the simmering pot. (this will thicken the soup)
and add salt, pepper, and oregano.
Continue to cook on low until chicken is fully cooked.
Then the stew is ready to serve.