Caprese with Balsamic Aioli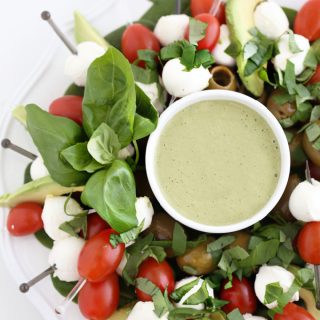 1/2 cup oil (I typically use vegetable oil
1 egg
3 tablespoons balsamic vinegar
1 1/2 cups fresh spinach
10+ leaves fresh basil
15 leaves fresh oregano (or use 1/4 teaspoon dry)
1/2 teaspoon salt (I use coarse kosher salt)
1/4 teaspoon black pepper
You can make an aioli sauce with an immersion blender (that is what I typically use) or a food processor.
Add all the ingredients if you're using an immersion blender and after you turn it on as it's resting on the bottom pull it up to create a whirl and then blend up and down until completely mixed.
If you're using a food processor, don't' add the oil, drizzle it in from the opening on the top area, slowly drizzle so the sauce will blend and emulsify and thicken.
The sauce thickens as it chills.
Chill 30 minutes in a glass jar with a lid on.
Serve with Caprese salad, vegetables or drizzled over cooked chicken is also delicious.
(if you don't add the spinach the sauce will be brownish and less appetizing, the green spinach gave it a great flavor and boosted the veggie content too.
Recipe by
Created by Diane
at https://www.createdby-diane.com/2019/01/caprese-with-balsamic-aioli.html