Low Carb Cut Out Cookies and icing recipes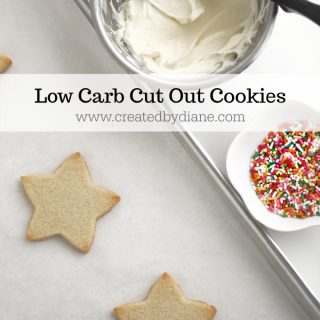 1/2 cup unsalted butter (if using salted butter reduce salt in the ingredient list)
1/2 cup granulated Swerve sweetener (erythritol)
1/2 an egg (whisk a large egg and use 2 tablespoons of the egg mixture)
1 teaspoon vanilla extract
2 cups almond flour
1 teaspoon baking powder (I use Clabber girl with is gluten-free)
1/2 teaspoon salt
*additional almond flour as needed for cookie cutter or to re-roll dough is it's wet/sticky
4 oz cream cheese (room temperature)
3 tablespoons butter (room temperature)
2 tablespoons granulated (or powdered Swerve Sweetener-erythritol)
1/2 teaspoon vanilla extract (or your favorite flavor and a drop of food coloring if desired)
In a food processor, process butter and sweetener until it's creamy and well blended.
Add in egg and vanilla, almond flour, baking powder, salt and pulse to blend completely.
If the dough is really wet/sticky add a tablespoon more of almond flour at a time until it's workable.
I found that 2 cups of almond flour was plenty.
The dough will pull away from the sided of the food processor, remove dough and roll it into a ball.
Then roll it out in between wax paper sheets to 1/4 " thick. I use two wood dowels to be sure my cookies are even.
Bake cookies on parchment lined baking sheets at 325° for 9-10 minutes just until the edges start to turn golden (not dark brown) remove cookie tray from oven and allow cookies to cool completely on baking sheet. They will continue to cook and firm up.
Whip the cream cheese and butter along with sweetener until smooth, if you have any lumps, press it through a fine sieve before applying to cookies.
Using an offset spatula spread icing over cookies and dust with cinnamon or sprinkles if desired (yes sprinkles are full of sugar, I just couldn't help myself they are so colorful! You could top them with crushed nuts, cocoa powder, unsweetened coconut for a fun topping.
For CHOCOLATE Cookies, reduce the almond flour by 2 tablespoons and add 2 tablespoons to 1/4 cup dutch process cocoa.
Recipe by
Created by Diane
at https://www.createdby-diane.com/2018/12/low-carb-cut-out-cookies.html