Turkey and Stuffing Meatballs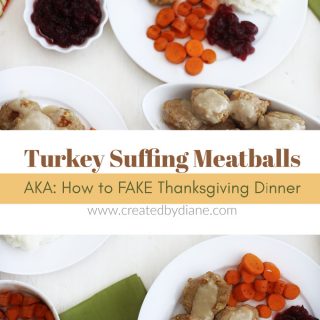 2 lbs ground turkey
1 6oz. Box stuffing mix (I use Stove Top Stuffing Mix)
2 eggs
1 cup boiling hot water
In a medium bowl mix turkey, stuffing, eggs, and hot water.
Roll into meatballs and place on a foil-lined baking sheet and bake at 400 degrees until the internal temperature is 165°, about 20-25 minutes.
I roll each pound into 12 meatballs about 3 tablespoons each.
Keep in mind if you make them smaller they will cook faster, if you make them larger they will take longer to cook.
Recipe by
Created by Diane
at https://www.createdby-diane.com/2018/11/turkey-stuffing-meatballs-fake-thanksgiving.html