Halloween Party Ideas and Pumpkin Jalapeno Chili Recipe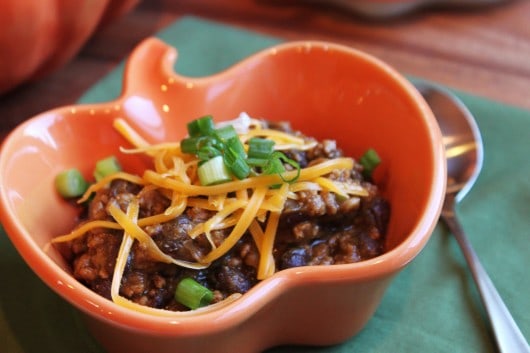 3 lbs ground beef
2 cups pumpkin
1 diced onion
4 cloves minced garlic
2 teaspoons Hot Mexican Chili Powder
1/2 teaspoon cumin
1/2 teaspoon pumpkin pie spice
1/4 teaspoon cloves
1 cup water
1 teaspoon beef flavor (beef bouillon)
4 jalapenos (roast them until they are black on the outside, then remove seeds and rib and dice)
4 cans drained black beans
In a large pot, brown beef with onion and garlic.
Add pumpkin, chili powder, cumin, pumpkin pie spice, cloves, water, beef stock, and jalapenos.
Stir in black beans and heat thoroughly.
Serve with grated cheddar cheese and scallions.
You can serve it over a small bag of Fritos Corn Chips for a walk around on the go chili, or with breadsticks.
This recipe can be cut in half for a smaller portion.
Recipe by
Created by Diane
at https://www.createdby-diane.com/2011/10/50-ft-party-for-halloween-and-pumpkin-jalapeno-recipe.html