Cauliflower Stuffing-low carb stuffing option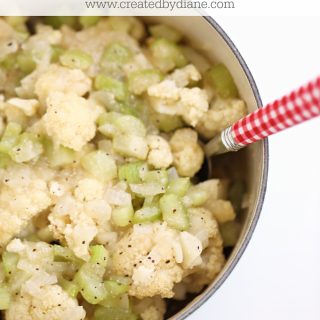 1 head cauliflower
½ white onion
4 stalks celery
2 tablespoon almond flour
1-2 teaspoon poultry seasoning ( it must be the sage in poultry seasoning that reminds me so much of stuffing)
salt and pepper
2cup chicken broth (or 2 cups water and bouillon)
2 tablespoons cornstarch
Cut up cauliflower into 2-inch florets, place them on a baking sheet with diced onion and celery with the almond flour, poultry seasoning, salt, and pepper added.
Roast at 400° for 20 minutes or until the cauliflower is tender when pierced with a knife.
In a saucepan, bring the chicken broth and cornstarch to a boil, it will thicken into a sauce.
Pour the sauce over the vegetables and serve.
*the almond flour isn't critical, but it gives the cauliflower a nice nutty flavor.
Recipe by
Created by Diane
at https://www.createdby-diane.com/2018/11/cauliflower-stuffing-low-carb-option.html