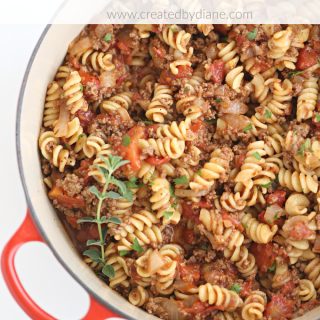 1 lb rotini pasta
1 lb ground beef
½ onion diced
1 teaspoon garlic paste or minced garlic
1 teaspoon oregano
1 teaspoon salt
⅓ teaspoon black pepper
¼- 1/2 teaspoon crushed red pepper
1- 28 oz can crushed tomatoes
1-8 oz can tomato sauce
1 cup water (or more if needed)
Cook pasta according to package directions and drain (cook the pasta al dente)
In a 4 or 6 quart pot, saute the beef then add onion and saute until the beef is fully browned.
Add in the garlic, oregano, salt and pepper, and crushed red pepper, then add in the diced tomatoes, tomato sauce and water, stir and cook 10 minutes, then add in the cooked pasta, stir and heat through.
If this dish will sit a while before being served, add some more water if needed, pasta has a tendency to absorb sauce and water easily as it rests. If you'd like a saucier, add 2-3 cups of water and another 8oz can of tomato sauce.