Low Carb Stuffed Peppers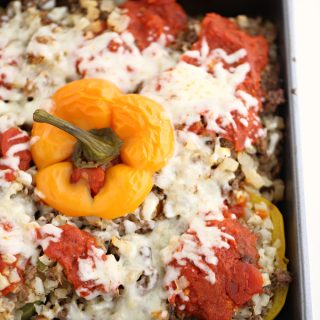 3 bell peppers (i used 1 yellow, 1 orange, and 1 green)
1 lb ground beef (or ground chicken or ground turkey)
1/2 onion, diced
1 lb cauliflower rice (diced cauliflower)
1 1/2-2 cups tomato sauce (my homemade sauce recipe or use jarred sauce)
(If the sauce you're using is not seasoned enough add some dry oregano, salt, and pepper)
1 cup shredded mozzarella cheese
Preheat the oven to 350°
Slice peppers in half and remove seeds, cut off stems and trim and save extra pepper pieces to place in bottom of baking pan.
In an 8x8 pan (spray with oil if it's not nonstick) place the pepper halves in the pan and add in the cut pieces as necessary so they all have a "bottom"
In a skillet brown the beef with the onion, then add in the cauliflower.
Fill the peppers with the meat mixture and if you have extra you can put it in the dish alongside the peppers.
Top with peppers with tomato sauce, cover with aluminum foil and bake for 30 minutes.
Add the shredded cheese and continue to bake 10-15 more minutes or until the peppers are tender and the cheese has melted completely.