Glazed Pork and Zucchini Meatballs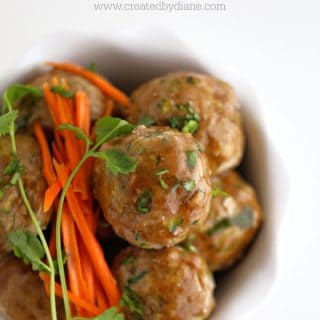 Serves:
1 down medium meatballs
1 lb lean ground pork
1 egg
1 medium zucchini, grated
1 tablespoon soy sauce
1 teaspoon fresh garlic or 1/4 teaspoon garlic powder
1/2 teaspoon fresh ginger or 1/4 teaspoon ground ginger
1/4 teaspoon salt
pinch black pepper
1-1/2 cups chicken stock/broth
2 tablespoons soy sauce
2-4 tablespoons fresh garlic or 1 teaspoon garlic powder
1 teaspoon fresh minced garlic (or garlic paste which is what I used) or 1/2 teaspoon ground ginger
2 tablespoons cornstarch
salt and pepper to taste
Mix together the ground pork with the eggs, grated zucchini, soy sauce, garlic, ginger, salt, and pepper.
Portion out and roll into meatballs and cook over medium-high in a skillet until they reach 165° or bake in the oven at 375 degrees until the internal tempo 165° is reached.
Prepare sauce by whisking the ingredients into the chicken stock/broth then heat it in a saucepan over medium-high heat until it comes to a boil.
Cover the meatballs in sauce, by rolling them in the saucepan or using a brush to apply sauce. The sauce is thin, it will glaze the meatballs, and you'll have some for dipping into. If you want the sauce thicker add a tablespoon more cornstarch when making it. The sauce thickens as it sets up, if serving immediately I sometimes make it thicker.
Recipe by
Created by Diane
at https://www.createdby-diane.com/2018/10/glazed-pork-and-zucchini-meatballs.html