Cauliflower "Potato" Salad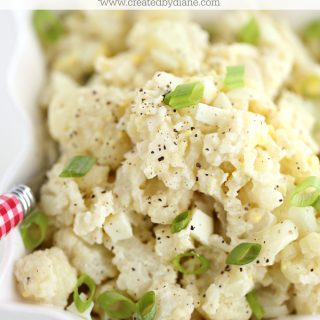 2 lbs cauliflower florets cut into pieces that are ½-1 inch
2 eggs
½ cup diced onion
¼ cup dill pickles diced (I prefer Claussen)
2 tablespoons pickle juice
⅓ cup mayonnaise (I prefer Hellmann's/Best Foods)
1 tablespoon mustard (I prefer Gouldens)
¼ teaspoon celery salt
Salt and black pepper to taste
In a large pot place cauliflower and eggs, cover with water by an inch.
Bring the pot to a boil, simmer for 5 minutes.
Drain cauliflower in a strainer, and rinse with cold water, and remove eggs and place the eggs in an ice bath.
In a medium bowl mix onion, pickles, mayo, mustard, celery salt.
Add in cooled cauliflower.
Then dice hard boiled eggs.
Mix cauliflower and eggs with mayo mixture, add salt and pepper then refrigerate until chilled completely.
Recipe by
Created by Diane
at https://www.createdby-diane.com/2018/08/cauliflower-potato-salad.html