Cherry Filled Cupcakes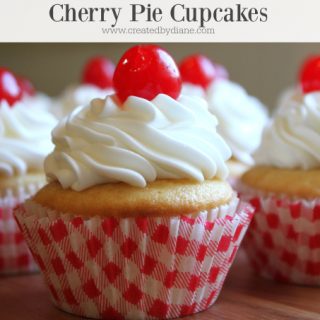 1 box vanilla cake mix (and ingredients to prepare them from package instructions)
1 cup flour
1 can (21 oz) cherry pie filling
1 cup shortening
5 cups powdered sugar
3 tablespoons heavy cream
24 maraschino cherries, well drained
Heat oven to 350°F (325°F for dark or nonstick pans). Place paper baking cup in each of 24 regular-size muffin/cupcake cups.
Make cake batter as directed on box for 24 cupcakes add a cup of flour, this will help the filling not fall to the bottom of the cupcakes.
For each cupcake, spoon 3 tablespoons batter into a muffin cup, then spoon 2 teaspoons pie filling onto center of batter. Bake and cool as directed on box for 24 cupcakes.
In a large bowl, beat shortening, powdered sugar and heavy cream with electric mixer on medium speed until creamy. Place frosting in decorating bag fitted with a star tip. Starting at outer edge of cupcakes, pipe frosting in spiral pattern, gradually elevating to a peak in the center. top each with a cherry.