Honey Sesame Chicken Meatballs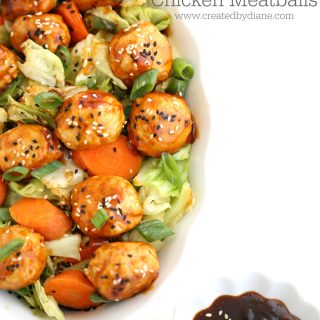 1 lb ground chicken
1 tablespoon soy sauce
1/2 teaspoon garlic paste
(add one egg and 1 cup panko breadcrumbs if you prefer and aren't eating low carb)
1/2 cup honey
1/4 cup soy sauce (or Braggs Aminos)
1/4 cup ketchup
2 tablespoons brown sugar
2 tablespoons rice vinegar
2 teaspoons sesame oil
2 teaspoons garlic paste
pinch crushed red pepper flakes
1-2 tablespoon cornstarch
Mix ground chicken soy sauce, garlic paste (and egg and breadcrumbs if desired)
In large skillet heat meatballs on medium high heat and turn until firm, heating the meatballs the rest of the way in the sauce will help prevent the meatballs from becoming dry.
In a small saucepan heat honey, soy sauce, ketchup, brown sugar, vinegar, sesame oil, garlic.
Mix cornstarch with 1/4 cup water then whisk into hot sauce, continue simmering sauce until it thickens.
Pour sauce over meatballs and continue to finish cooking meatballs until they reach 165°.
Serving suggestion over sauteed cabbage, carrot and green onion.
You can add additional water if the sauce gets too thick, and if it's not thickening up enough for your liking add some more cornstarch mixed with water and simmer the sauce until it's the right thickness.
Recipe by
Created by Diane
at https://www.createdby-diane.com/2018/07/honey-sesame-chicken-meatballs.html