Deconstructed Chicken Eggroll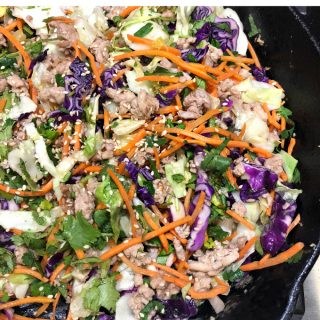 Serves:
2 large servings or 4 small servings
1 lb ground chicken
1 tablespoon garlic paste (or ½ teaspoon garlic powder)
1 teaspoon fresh ginger paste (or ½ teaspoon dry ginger powder)
1 tablespoon soy sauce
3 drops chili oil - this gives it such a great flavor!
pinch crushed red pepper flakes
4 cups chopped cabbage (I used green and purple)
½ cup shredded carrots
2 green onions (chopped)
¼ cup chopped fresh cilantro
½ teaspoon toasted sesame seeds
In a skillet (I use cast iron) saute ground chicken with garlic and ginger, add chili oil and chili flakes if using them, then add soy sauce.
Add in cabbage and carrots toss a few times and allow to cook for a minute or two (don't' overcook or the cabbage will get too soft and soggy and crunchy vegetables are the goal that everything is heated but not cooked through until they are soft).
Add the green onion and cilantro then top with sesame seeds and serve.
Recipe by
Created by Diane
at https://www.createdby-diane.com/2018/05/deconstructed-chicken-egg-roll.html