Zucchini Noodles with Sauce and Cheese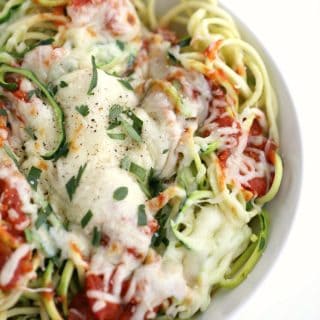 2 medium zucchini
1/2 cup tomato sauce
1/4 cup shredded mozzarella cheese
Spiral slice the zucchini.
Heat a skillet and heat the zucchini noodles for 2 minutes
top with sauce and cheese and place lid on top to melt cheese or place under a broiler until sauce is hot and cheese is melted.
Alternatively, you can heat the sauce and mix in the zucchini noodles then add the cheese if you like it all blended together.
Recipe by
Created by Diane
at https://www.createdby-diane.com/2018/04/zucchini-noodles-with-sauce-and-cheese.html