Low Carb Pizza Crust Recipes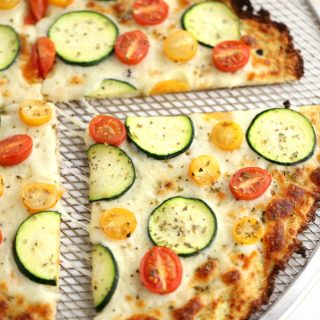 All Chicken (2 cups cooked chicken)
Chicken and Cauliflower (1 cup cooked chicken 1 cup crumbled cauliflower)
All Cauliflower (21/3 cups cauliflower crumbles/rice) you'll need an extra 1/2 cup mozzarella cheese for this crust to get crisp, so 1-1/2 cups total cheese.
1 cup shredded mozzarella cheese
1 egg
1 cup shredded mozzarella cheese
1/4-1/2 cup pizza/tomato sauce
Zucchini, grape tomatoes, pepperoni etc
Each recipe makes a 14" pizza (or two smaller pizzas)
I prefer each of the crusts mixed in a food processor, the texture is nicer.
Add whatever option you decide on: all chicken, half chicken, and half cauliflower, or all cauliflower.
Add an egg and the cheese.
*you can add garlic, salt and pepper and any herbs you like.
Mix in a food processor until it resembles small crumbs.
Press the mixture on a parchment lined pizza screen or similar baking sheet with holes so the crust can crisp and not end up soggy.
Bake at 425° for 15 minutes
The pizza crust is firm enough to scoot off the parchment and slide it onto the screen by itself.
Add the topping you'd like, such as a cup of shredded mozzarella cheese and zucchini and grape tomatoes, top with some oregano.
Or tomato sauce and cheese and maybe pepperoni.
Continue baking the pizza for 5 more minutes or until cheese is melted, about 5-7 minutes.
Sometimes I bake the pizza at 450° for 10 minutes then add the toppings and bake for another 5 minutes or so with great results as well. Often my oven stays hot at 450 without dropping in temp, like most ovens do so adjust temp and time according to whats needed.
Recipe by
Created by Diane
at https://www.createdby-diane.com/2018/04/low-carb-pizza-crust-recipes.html