Quick Pickled Vegetables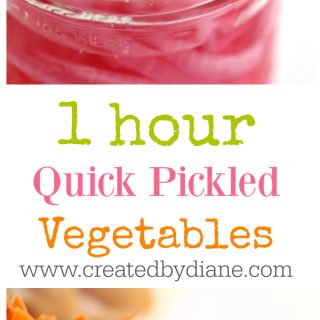 select the vegetables you want to pickle
1 onion
or
3 carrots + 1 jalapeno
for each you'll need:
1 cup water
1 teaspoon sugar
1 teaspoon salt
½ cup white vinegar
Each vegetable option will fit in a 16oz canning jar
Slice the onion in half and then in slices, or Julianne the carrots and slice the jalapeno.
Bring the water to a boil, add sugar and salt.
Fill the jar with vegetables then add in vinegar and then pour in boiling water to the top.
Add the canning jar top and ring, refrigerate and they will be ready to enjoy within an hour and will keep in the fridge for at least a month if you don't eat them before that.