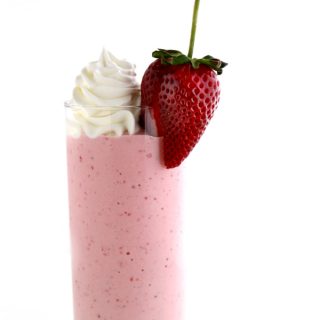 5 oz. frozen strawberries (about 1 cup)
4 oz. plain greek yogurt or 4 oz. frozen banana (1 medium banana)
1 cup milk
Toppings (optional)
whipped cream
strawberry for garnish
*if your strawberries aren't sweet enough you may want to add some sugar or favorite sweetener.
**If your fruit isn't frozen add a few ice cubes.
Place all ingredients in a blender or cup and use an immersion blender and puree smooth. Add more milk if necessary to get it smooth and be able to blend well if you add all frozen fruit.
Top with Whipped cream and a strawberry if desired.