Garlic Mushrooms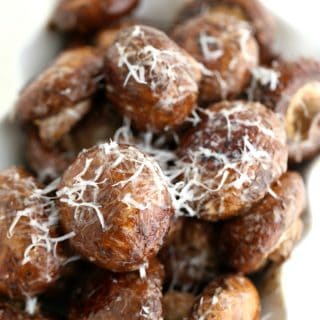 16 oz. small portabella mushrooms
3 tablespoons fresh minced garlic
1/2 tablespoons olive oil
1 tablespoon butter
salt and pepper to taste
1/2 oz.parmesan cheese for grating over the top
In a skillet (I use cast iron) heat the pan, then add oil, butter, and garlic over medium heat, add in mushrooms and stir to coat evenly. (I use tongs to turn the mushrooms evenly)
Cook for a few minutes until garlic is cooked, mushrooms smell amazing without being soggy and watery.
If you like adding wine add a splash of red wine.
Add salt and pepper.
Remove from heat and grate parmesan cheese over the top of the mushrooms.