Thai Curry Chicken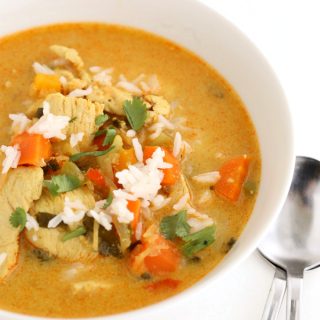 2 lbs boneless skinless chicken breasts, thinly sliced
1 medium onion diced
4 carrots, diced
3 celery, diced
1 orange bell pepper, (any color is fine)
1 jalapeno, diced
1 lime, juiced
1 tablespoon fresh garlic paste (or 2 garlic cloves minced)
1 tablespoon fresh ginger paste (or a fresh minced)
1 can coconut milk (about 13 oz. can)
3 cups chicken stock
1 tablespoon harissa (sometimes 2 tablespoons, this gives the soup a great flavor, definitely worth getting if you don't have it)
2 tablespoons curry (I use a yellow curry, any curry will work)
1/4 cup chopped fresh cilantro
*basmati rice (make a batch of rice is you are serving it or sometimes I purchase cooked basmati rice if I'm adding just a little bit as I did in the photos)
In a 4 quart saucepan add butter and onion, saute for 1 minute.
Add in carrot and celery, and pepper, and stir.
Stir in chicken.
Mix in the curry to coat the vegetables and chicken.
Add garlic, ginger, and harissa.
Then add coconut milk and chicken stock.
Bring to a boil over medium-high heat, then simmer at a low boil for 10 minutes.
Add lime juice and then serve with cilantro.