Irish Soda Bread Recipe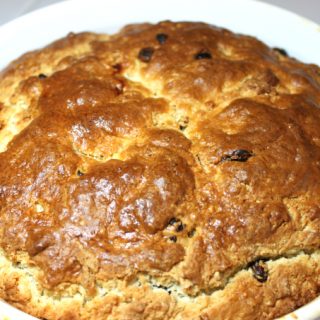 4 cups flour
3 tablespoons sugar
1 tablespoon baking powder
1 teaspoon salt
1 teaspoon baking soda
6 tablespoons cold butter
2 eggs
1½ cups buttermilk
1½ cups raisins
Prepare a 1½ quart casserole pan or muffin tin with a baking spray or butter.
Mix flour with sugar, baking powder salt and baking soda in large bowl. But in cold butter with a pastry cutter or two knives until it resembles coarse crumbs.
In a small bowl, beat the eggs and remove a tablespoon for to brush on top of muffins before baking.
Add buttermilk and eggs to flour mixture, Dough will be very sticky.
You can mix it with a mixer and dough hook.
Add raisins and mix together until they are incorporated.
Turn dough onto well-floured surface and with floured hands knead the dough about 10 times.
You can bake this in a 1½ quart casserole dish for 1 hour and 10 minutes.
Or you can bake these as muffins, place three tablespoons into each well of the muffin pan and bake at 350 degrees for 15-20 minutes.
Insert a toothpick to check to see the bread is not moist inside.
Let the Irish soda bread cool and dust with powdered sugar before serving.
* You can find dry buttermilk, that you can add water to in the baking section. Buttermilk adds a rich flavor to scones, biscuits, cake, and pancakes.