Slow Cooker Corned Beef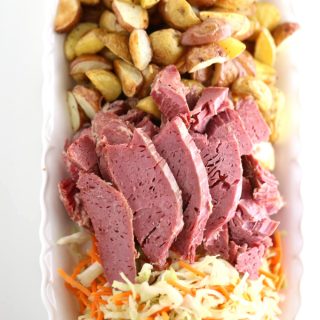 3 lb corned beef
2-3 cups water, enough to just cover the corned beef with water
1/2 cup sugar
1/3 cup white vinegar
Remove corned beef from packaging, rinse corned beef, then place it in your slow cooker.
Add the water, sugar, and vinegar.
Set it on low for 8 hours, or high for 5 hours.
Remove the corned beef from the slow cooker, discard the liquid allow the corned beef to rest if you are slicing it, or shred it with two forks.
*Saute a package of coleslaw mix in a skillet and slice small potatoes then drizzle them with olive oil and roast them in a pan in the oven at 400° or in a cast iron skillet with a lid after they start to brown. They take about 15-20 minutes in the oven and on the stove if you have your cast iron hot.