Peppermint Brownie Cookies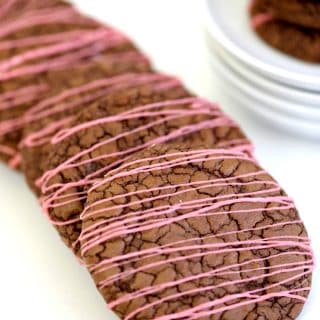 16 oz dark chocolate (I use Ghirardelli 60% cacao chips) melted
1/2 cup butter
1 cup flour
1/2teaspoon baking powder
4 eggs
1 cup brown sugar
1 teaspoon vanilla extract
1 teaspoon peppermint extract
1 cup powdered sugar
1 tablespoon corn syrup
2-3 tablespoons water
1/2 teaspoon peppermint extract
2 drops soft pink color
In a microwave-safe bowl, melt butter this usually takes 30 seconds or so on high.
In a medium bowl mix brown sugar and eggs with a fork, add in melted chocolate, butter, flour, baking powder, and vanilla and peppermint extract.
Scoop 3 tablespoons sized scoops of dough onto parchment lined baking sheets for these large cookies.
Bake at 350 degrees for 14-15 minutes.
Allow the cookies to cool on the pan.
Test with a toothpick before removing the cookies from the oven, the batter should not stick to the toothpick, but be careful not to overbake or they won't be chewy, they will dry out.
Remove the baking sheets from oven and allow the cookies to cool on the baking sheets.
Mix the powdered sugar, corn syrup, water, peppermint extract and pink food coloring together until smooth and creamy.
Drizzle over cooled cookies.
Allow icing to dry before stacking cookies.
How I Melt chocolate for this recipe: I do this at 30% power in the microwave for 1 minute and 10-15 seconds at full power to melt completely and stir in every 30 seconds.
Recipe by
Created by Diane
at https://www.createdby-diane.com/2018/02/peppermint-brownie-cookies.html