gingerbread salt dough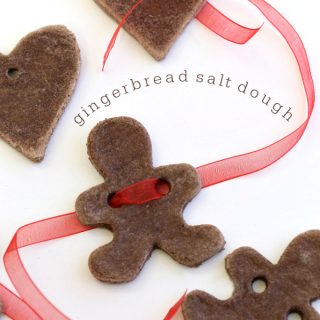 1-1/2 cups flour
1 cup salt
½ cup unsweetened cocoa
2 tablespoons cinnamon
1 tablespoon ginger
1 cup water
(tool to make holes, straw-I used a metal straw, piping tip also work well I used a size 6 on mini hearts) a size 10 would be good if you don't have a firm straw.
mod podge
brush for mod podge
ribbon
In the large bowl of a mixer add flour, cocoa, salt, cinnamon, ginger and mix on low.
Add in water and mix on low to medium speed until well blended and the dough pulls away from the sides of the bowl. Add a little more water to get a perfect consistency, if the dough is too wet add a tablespoon of flour at a time until it's pliable and easy to roll out.
(the bottom of the "cookie" is the side that will stay darkest you can bake them upside down)
Roll out dough between wax paper sheets to1/4" or thicker.
Cut dough with cookie cutters.
Poke holes where you'd like the ribbon/string to go.
Use a straw or round piping tip.
Bake them on lined parchment sheets at 170° for 2 hours or until completely dry.
When they are completely cooled.
If you want them to last a long time, paint the mod podge on both sides allowing each side to dry completely.
Thread with ribbon when completely dry.
Hang on Christmas tree or use as decorations on packages.