Glazed Almond Cookies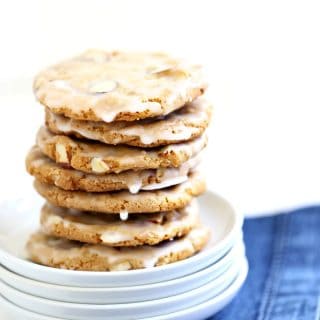 1/2 cup butter
1/2 cup sugar
1/2 cup brown sugar
1 egg
1 1/4 teaspoon almond baking emulsion or almond extract
1 1/4 cups flour
1/2 teaspoon baking soda
1/2 teaspoon cornstarch
1/4 teaspoon salt
1 cup sliced almonds (3/4 cup to mix into cookie dough, 1/4 cup to place on top of cookies)
1 1/2 cups powdered sugar
1 teaspoon almond emulsion/extract
1 tablespoon corn syrup
2 tablespoons warm water
In the bowl of a mixer beat butter with sugars.
Add the egg and almond flavor and mix on low until combined.
On medium-low mix in the flour, baking soda, cornstarch, and salt.
on low-speed mix 3/4 cup almonds.
Scoop out 2 tablespoons dough onto parchment lined baking sheets 2 inches apart.
Place 4 sliced almonds on top of each cookie.
Bake cookies at 350° for 10-12 minutes.
Remove cookies from oven when centers are blonde, edges are golden they will be slightly raised and will flatten and crackle as they cool on the baking sheets.
Mix all ingredients together until really smooth, adjust the consistency of the glaze if need with a little more powdered sugar or a few drops of water to thicken or thin glaze. Use a silicone brush to slather the glaze over the cookies and allow glaze to dry completely before stacking cookies.