Stained Glass Butterscotch Cookies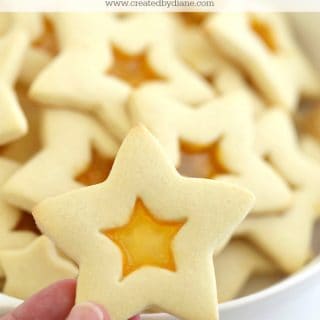 12 butterscotch candies
1/2 cup butter
3/4 cup powdered sugar
1 egg
1 teaspoon butter rum extract (butter extract or butter vanilla extract)
1 1/2 cups flour
1 teaspoon baking powder
1/4 teaspoon salt
Preheat oven to 400°
Place butterscotch candies in a mini food processor and pulse until they are crushed completely you'll the pieces to be small and powdery.
In a mixer bowl beat butter with sugar until smooth
Add in egg and extract and mix on medium-low until combined
Mix in flour with baking powder and salt.
The dough will be smooth pull away from the sides of the bowl.
Roll out cookie dough to 1/4" between waxed paper.
Use the larger and smaller cookie cutter to cut out the shapes in the cookie dough, then transfer the cookies to parchment-lined baking sheets.
Pinch the crushed candy and put some in the center of the cookies don't overfill them, and brush off any excess candy off the cookie dough for great results.
Bake at 400° degrees for 7 minutes.
Allow cookies to cool on the baking sheets completely.
You can easily double this recipe ( double ingredients except use only 1 egg and 3 cups flour)
Recipe by
Created by Diane
at https://www.createdby-diane.com/2017/12/stained-glass-butterscotch-cookies.html