Coconut Confetti Cookies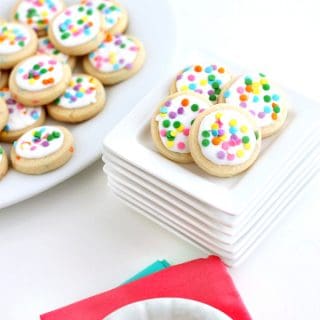 1 cup butter
1-1/2 cups powdered sugar
1 large egg
1 teaspoon coconut extract (or coconut baking emulsion)
½ teaspoon vanilla extract
3 cups all-purpose flour
2 teaspoons baking powder
1 teaspoon salt (don't add if you use salted butter)
2-3 tablespoons confetti sprinkles
In the bowl of a mixer beat butter with powdered sugar.
Add the egg and extracts.
On low add in flour with baking powder, salt, and sprinkles.
Mix on medium until well blended.
The dough will pull away from the sides of the bowl when being mixed.
Remove the cookie dough from the bowl and roll it into a ball.
Roll the dough out between wax paper and cut into the desired shape.
Bake cookies on parchment lined baking sheets at 400° for 7-9 minutes.
Let cookies cool on baking sheet until completely cooled before icing.