Sheet Pan Stuffed Pork Chops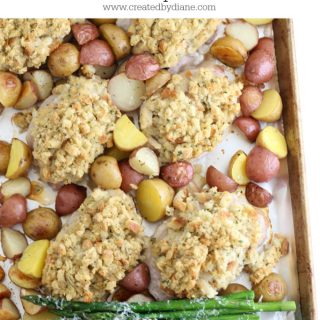 6 boneless pork chops
1 package Stove Stop Stuffing (6 oz. size box)
2 lbs small potatoes
1 lb asparagus
(grated Romano/Parmesan Cheese)
Olive Oil
Salt and Pepper
Line a sheet pan with non-stick foil
Mix the stuffing according to package directions.
Place the pork chops on the sheet pan.
Place stuffing on top of each pork chop
Slice the potatoes (in half or quarters) and drizzle them with olive oil, salt, and pepper and place them on the baking sheet.
I used a smaller separate sheet pan for the asparagus and cook it at the same time in the oven if you can fit everything on one sheet pan, if not use two.
Bake at 375 degrees for 30 minutes.
Test the pork chop with a thermometer to be sure they have an internal temperature of 160° degrees.
Grate some Romano Cheese (or Parmesan) over the asparagus.
I cook my asparagus on a separate pan and take it out when it's still fairly firm. I don't like it soft, cook to your desired doneness.
Recipe by
Created by Diane
at https://www.createdby-diane.com/2018/03/sheet-pan-stuffed-pork-chops.html