No Pie Crust Sour Cream Apple Pie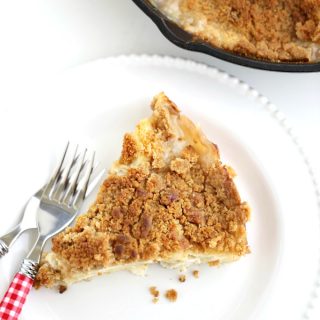 2 lbs granny smith apples
1 1/4 cups sour cream
1/2 cup sugar
1/3 cup flour
1/4 teaspoon salt
1 1/2 teaspoons vanilla
1 egg
1/2 cup brown sugar
1/2 cup flour
1/4 cup cold butter
1/2 teaspoon cinnamon
Preheat oven to 400°
Peel, core, and slice apples. I use the pampered chef apple peeler/slicer/corer.
In a medium bowl mix sour cream, sugar, flour, salt, vanilla, and egg together with a whisk.
Gently stir in apples to coat them completely.
Pour the mixture into a cast iron skillet I baked this one in a 10" for the photo above, but also have baked it in a 12" or you can use another pan of similar size, like a cake pan, or pie plate.
The smaller the diameter the thicker the pie will be.
This recipe can be easily cut in half and baked in an 8" pan for two large servings.
Bake for 20 minutes.
In a small bowl with a fork or pastry cutter blend brown sugar, flour, butter, and cinnamon.
Place in the fridge until the 20-minutes is done.
Then top the pie with the topping and bake for another 20 minutes.
Allow pie to cool for 10 minutes if serving hot, or allow to cool to the touch, then place the pie in the fridge until it's chilled.
Recipe by
Created by Diane
at https://www.createdby-diane.com/2017/11/no-pie-crust-apple-pie.html