Creamy Tomato Chicken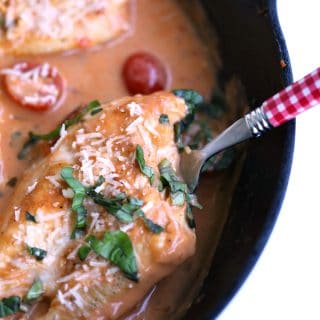 2 lbs boneless skinless chicken breasts (sliced thin)
1 teaspoon garlic
1 cup tomato sauce
1/2 cup heavy cream
1/4 cup grated Romano Cheese (or Parmesan)
fresh basil (optional)
salt and pepper to taste
1/2 pound pasta (cook according to package directions)
In a skillet, heat a tablespoon of oil and brown both sides of the chicken over high heat.
Turn temperature to medium-high, add garlic, tomato sauce, and heavy cream, when it comes to a simmer, turn to medium-low temperature and when chicken is cooked completely add cheese, tomatoes.
Add salt and pepper.
Add in cooked pasta, toss into sauce add additional grated/shaved cheese, and basil.