Seafood Mac and Cheese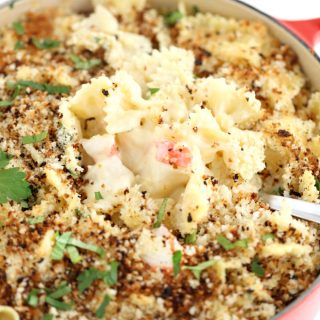 1 lb bow tie pasta (this shape works well with the crab flakes as they "stick" to the pasta)
2 tablespoons butter
2 tablespoons flour
2 cups whole milk
1 teaspoon minced garlic (I use Gourmet Gardens Garlic)
1 cup cheddar cheese
1/2 cup loosely shaven romano cheese (1/2 oz is my estimation)
1-16 oz package imitation crab
Add salt and pepper to taste
2 tablespoons butter (melted)
1 cup panko breadcrumbs
Cook pasta according to package directions and drain.
In a skillet add butter and flour and whisk to combine over a medium heat.
Slowly pour in milk while whisking until it's all incorporated.
Add in garlic.
Add in both kinds of cheese.
Stir in crab (I break it into pieces before adding it in so it distributes evenly in the pasta and sauce.
Place butter over breadcrumbs in a bowl then pour over pasta and place under the broiler for a minute or two so they get crisp.
Add salt and pepper to taste.