Buffalo Chicken Meatballs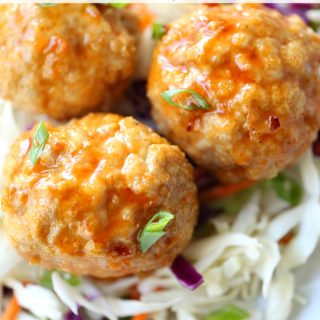 2 pounds ground chicken
1 egg
1 tablespoon buffalo hot sauce ( I use Franks Buffalo Hot Sauce)
1 tablespoon garlic paste
1/2 teaspoon salt
1/4 teaspoon black pepper
1 cup panko breadcrumbs
1/2 cup Buffalo Hot Sauce (I use Franks Buffalo Hot Sauce}
3/4 cup brown sugar
2 tablespoons apple cider vinegar
1 tablespoon cornstarch
pinch red pepper flakes if you like things spicy
In a small saucepan heat 1/2 cup hot sauce, brown sugar, apple cider vinegar, cornstarch and red pepper flakes.
The sauce will thicken as it cools.
In a medium bowl combine chicken, garlic, egg, hot sauce, salt, pepper, and breadcrumbs.
Roll mixture into 2-3 tablespoon size balls.
Bake the meatballs on a baking sheet at 400° for 15 minutes or until the internal temperature is 165 degrees. (alternatively, you can cook the meatballs in a medium-high skillet turning them to cook them evenly)
Pour sauce over meatballs when they come out of the oven or are completely cooked in a skillet.
Recipe by
Created by Diane
at https://www.createdby-diane.com/2017/09/buffalo-chicken-meatballs.html