Chocolate Frosted Glass Bottom Cookies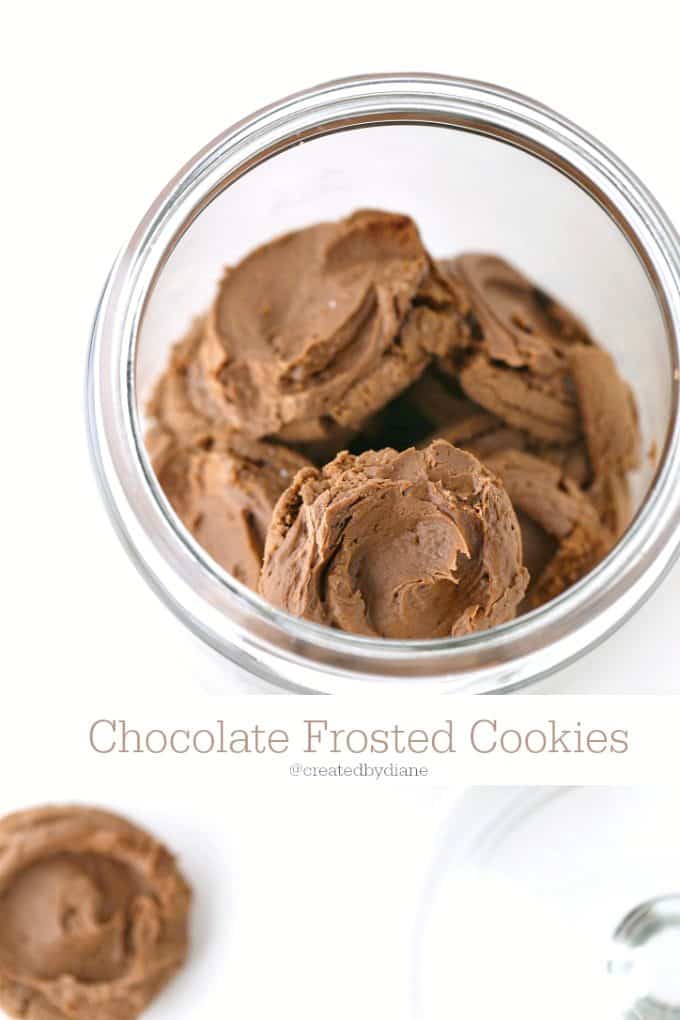 1 cup butter (room temperature)
1 cups sugar
¾ cup powdered sugar
½ cup oil
2 eggs
1½ teaspoons cornstarch
½ teaspoon baking soda
½ teaspoon cream of tartar
1 teaspoon salt
¼ cup cocoa (I use dutch process cocoa)
4 cups flour
*additional ¼ cup granulated sugar for adding to the cookies after being baked.
Preheat the oven to 350°
In the bowl of a mixer cream the butter with both sugars until smooth.
Mix the oil and eggs until combined.
Next mix in the cornstarch, baking soda, cream of tartar, salt, cocoa, and flour and mix until it's all well incorporated.
Use a 2 tablespoon cookie scoop and place the cookie dough onto parchment lined baking sheets.
Bake for 10 minutes. You can test with a toothpick, a toothpick should come out clean.
Glass Bottom method-use and antique glass with a decorative bottom or a smooth measuring cup.
While the cookies are still warm, about 2 minutes out of the oven...
Add a little dab of butter or frosting to the bottom of the item you will be adding sugar too.
I used a measuring cup, then added a dab of butter to it and dipped the smooth bottom of the measuring cup into granulated sugar.
While the cookies are still warm, gently press the bottom of the measuring cup onto the cookies, the edges of the cookies may crack a bit, that is ok, don't squish the cookies or press too hard.
Allow the cookies to cool completely.
Spread frosting onto cookie with a small offset spatula. Allow frosting to set up completely so it won't get messed up if you move them or stack them. I allow the frosting to set up for a few hours to overnight if I'm going to stack them.
Recipe by
Created by Diane
at https://www.createdby-diane.com/2017/08/chocolate-frosted-glass-bottom-cookies.html