Cherry Muffins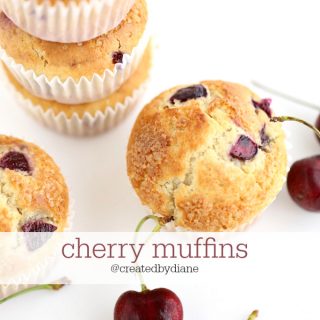 2 cups flour
1/2 cup granulated sugar
2 tablespoons brown sugar
3 teaspoons baking powder
1 teaspoon salt
1 egg
1 cup milk
6 tablespoons butter, melted
1 tablespoon oil
1 teaspoon vanilla bean paste (or vanilla extract)
2 cups fresh cherries (pitted and cut in half)
2 tablespoons turbinado sugar for top of muffins
Place flour, granulated sugar, brown sugar, baking powder, and salt in a large bowl and whisk these items together really well so they are completely combined.
Mix in egg, milk, butter, oil, and vanilla.
Stir in cherries.
Place 3 tablespoons of batter into a muffin pan lined with paper liners.
Top the batter in each cup with some turbinado sugar.
Bake at 425 for 25 minutes.