1 hour Strawberry Shortcake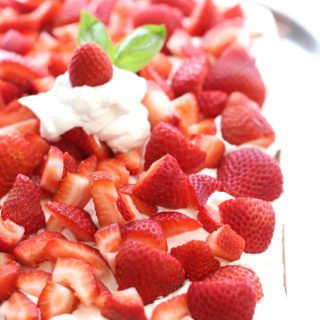 Author:
Diane Schmidt Created by Diane
2 cups sugar
4 eggs
2 1/2 cups flour
2 1/2 teaspoons baking powder
1 cup milk
1/2 cup melted, cooled butter
1/4 cup oil
2 teaspoons vanilla extract, or bean paste
16 oz fresh strawberries washed, dried, and cut
2 cups heavy cream whipped
up to 1/4 cup granulated sugar
2 tablespoons dry milk (to stabilize the whipped cream so it's won't be runny)
1 teaspoon vanilla (add a 1/2 teaspoon of lemon extract for a fun flavor option)
Prepare a 13 x 9 pan with a baking spray (use parchment on the bottom if you prefer and will be removing the cake from pan to serve, not as essential if you will be serving it from the pan)
In large mixer bowl beat sugar with eggs to combine completely.
Add in flour, baking powder and mix on low.
Add in milk, butter, oil, and vanilla and mix until creamy.
Spread batter into prepared pan.
Bake at 350 degrees for 30-35 minutes or until a toothpick comes out clean.
Allow cake to cool at least 5 minutes if you will be removing the cake from pan and then place it on a cooling rack.
Prepare whipped cream topping. In a large mixer beat COLD heavy cream with dry milk, sugar, and vanilla until medium-firm peaks form.
When the cake is cooled.
Spread whipped cream over top of the cake with an offset spatula, then top with fresh strawberries.
Recipe by
Created by Diane
at https://www.createdby-diane.com/2017/06/1-hour-strawberry-shortcake.html