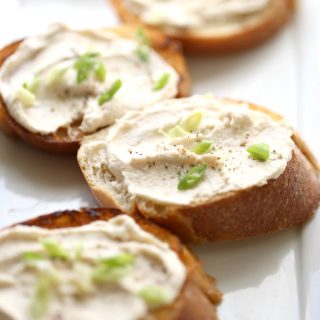 4 oz Smoked Salmon
4 oz Cream Cheese
¼ cup Heavy Cream
¼ cup diced green onion
1 tablespoon lime juice
½ teaspoon chopped fresh or dry dill
salt and pepper to taste
*additional spice options smoked paprika
sliced baguette
Place all ingredients in a food processor or jar with an immersion blender. If the mouse is too thick, add additional heavy cream by the tablespoon. You'll want it thinner for dipping but it'll be great thicker for spreading.
Using a brush and olive oil brush each side of the sliced baguette pieces and toast them on a hot skillet or grill pan until golden. Then spread the smoked salmon mousse over crostini once they have cooled so the mousse does not melt.