Easy Homemade Cornbread with Honey Butter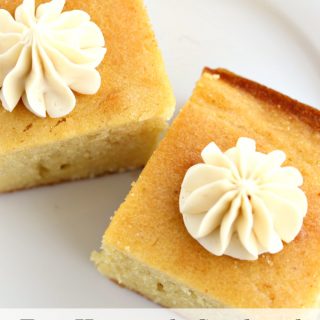 1 cup cornmeal
3 cups flour
3/4 cup brown sugar
1 tablespoon baking powder
1/2 teaspoon salt
2/3 cup oil
1/3 cup melted butter
1 tablespoon honey
3 eggs + 2 yolks
2 1/2 cups whole milk
Prepare a 13x9 baking pan by liberally greasing with shortening (Crisco)
In a large bowl whisk cornmeal, flour, brown sugar, baking powder, and salt.
Add in oil, melted butter, honey, eggs, and yolks, mix until it's all just combined and all dry ingredients are moistened, don't overmix.
Allow batter to rest for 5 minutes, this will allow the cornmeal to absorb moisture and help produce a moister cornbread.
Pour batter into prepared pan.
Bake at 350° for 45 minutes or until a toothpick comes out clean. If your oven runs on the hot side test at 40 minutes.
Allow cornbread to cool for a few minutes before serving.
Recipe by
Created by Diane
at https://www.createdby-diane.com/2017/06/easy-homemade-cornbread-with-honey-butter.html