Soft Sugar Cookies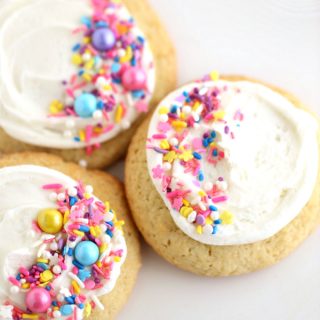 1 cup butter
1 1/2 cups sugar
2 eggs
2 teaspoons vanilla bean paste (or vanilla extract)
1/2 cup plain Greek yogurt (I used Fage 0%)
3 cups flour
1/2 teaspoon baking soda
1/2 teaspoon salt
In a large bowl with a mixer beat butter until light and fluffy. add in sugar and mix completely.
Add in eggs and vanilla and mix on medium until combined.
Add in yogurt and combine.
Mix in flour, baking soda, and salt on medium until well mixed.
Place 3 tablespoons sized scoops on parchment lined baking sheets and bake cookies at 350° for 18 minutes. If you have a really hot oven bake at 325°.
Cookies should be golden on the bottom and baked and set in the centers. They will bake a couple minutes longer when you take them out of the oven, so don't over bake them.
Allow cookies to cool completely before applying frosting or chocolate. You could roll the dough in sugar for a sugar crust on the cookies.