Taco Marinated Chicken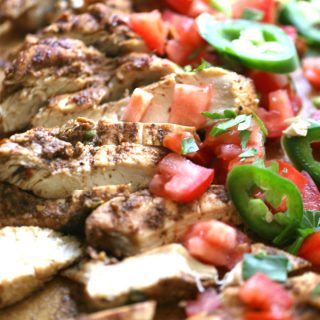 2 lbs boneless chicken breasts
Juice of a lemon (about 2 tablespoons)
Juice of a lime (about 1 tablespoon)
3 tablespoons taco seasoning (click here for my taco seasoning mix)
2 tablespoons olive oil
Place chicken in a zipper bag with all ingredients. ( be sure there is enough liquid to cover chicken add a tablespoon or two of water if needed)
Marinade a couple hours or overnight.
Heat skillet or grill to cook chicken, I use a cast iron skillet.
Cook until chicken reaches an internal temperature of 165°
Slice chicken and serve with tomatoes, jalapenos over a salad for a light meal.
Serve over nachos, or with rice and beans, or use this in tacos.