Snowcap Cookies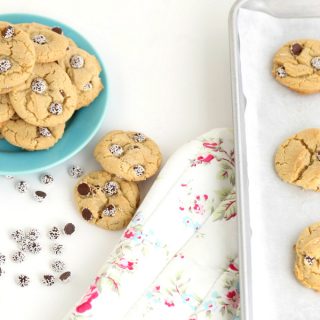 1 cup butter, melted and cooled
1 1/4 cup brown sugar
1/2 cup sugar
1 egg + 1 egg yolk
1 teaspoon vanilla bean paste (or vanilla extract)
2 3/4 cups flour
2 teaspoons cornstarch
1 teaspoon baking soda
1 teaspoon salt
1 cup snowcaps candy + 1/4 cup (about 10oz bag snowcaps)
In large mixer bowl combine butter with sugars and mix on medium until fully combined.
Add in egg and egg yolk, and vanilla.
Mix in flour, cornstarch, baking soda, and salt.
Mix in 1 cup snowcaps.
With 1 tablespoon scoop place, cookie dough onto parchment lined bakings sheets and press a couple of snowcaps into the tops of each cookie.
Bake at 350 degrees for 10-12 minutes.
The bottoms should be firm, the centers slightly soft, they will firm up as the cookies cool on the baking sheets.
These cookies are crispy and chewy and the texture of the snowcaps is great if you want to replace the snowcaps with chocolate chips is fine too.