Salisbury Steak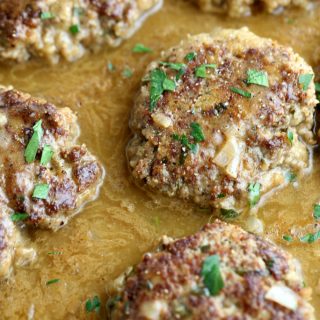 2lbs ground beef
½ cup panko bread crumbs
2 eggs
1 teaspoon dry oregano
½ onion chopped
2 tablespoons cornstarch
1 teaspoon garlic minced/paste
2 cups broth (I used water and concentrate of both beef and chicken) you can use all beef if you prefer. Add additional beef or chicken concentrate to give the gravy a rich flavor.
½ teaspoon worcestershire sauce.
In a large bowl mix ground beef with bread crumbs, eggs and oregano.
Form ground beef into ⅓ pound patties.
In a large frying pan on high brown the patties on each side.
In a measuring cup mix the broth with beef/chicken flavor, cornstarch, worcestershire sauce, and garlic with a whisk.
Pour broth mixture around beef, add in the onions and turn stove to medium.
Cook for 5 minutes, turn each beef patty over and cover with a lid.
Cook beef until it reaches 160° on a thermometer.
The sauce will have thickened.
If the sauce is thin cook for a minute on a bit higher heat with the lid off.
Add salt and pepper to taste.
Serve beef patties with gravy poured over top.