Inside-Out Wonton Soup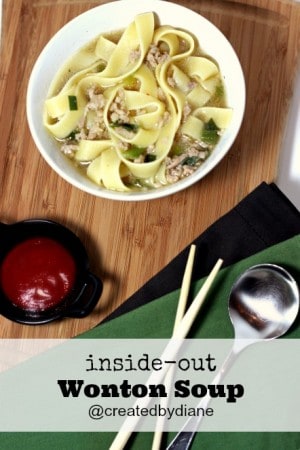 1 lb. ground pork until cooked
1/4 teaspoon grated fresh ginger or dry ginger
2 diced scallions diced
1/2 head napa cabbage chopped finely
2 tablespoons soy sauce
1/4 teaspoon sesame oil
6 cups chicken broth
*optional 2 carrots, grated
Saute pork in a 4-quart pot until cooked over medium heat.
Add ginger, scallions, cabbage, add in soy sauce and sesame oil.
Then pour in chicken broth.
You can use wonton wrappers or fettuccine noodles for this soup.
Wonton noodles are thinner and light in texture. Fettuccine noodles are thicker and more substantial for serving this soup as a meal.
Cut 1/2 a package of wonton noodles in strips 1/2 " wide or use 1 pound fettuccine noodles
Add which you prefer to pot and cook on medium for 5 more minutes for wonton noodles, or 9 minutes for fettuccine noodles and then serve.