Chicken and Sausage Fried Rice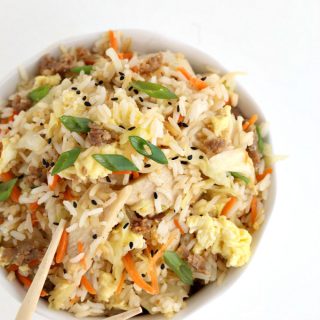 1 large chicken breasts sliced thin (or 1-2 cups cooked chicken)
2 links hot Italian sausage (casing removed)
4 cups cooked rice
6 eggs, scrambled
1 cup thinly sliced cabbage
1/2 white onion, sliced
3 green onions diced
1 cup grated carrots
2-3 tablespoons soy sauce
2 teaspoons sesame oil
2-3 tablespoons vegetable oil
pinch of sesame seeds
If you like spice, add a few drops of chili oil, or 1/2 teaspoon crushed red pepper.
In a large skillet over high heat,( I use a cast iron skillet as it stays hot especially when adding in cold foods) place 1 tablespoon vegetable oil, heat chicken, then add in sausage. You cook them together or separate, your choice, I often cook them together. If you are using pre-cooked chicken no need to add it until you add the vegetables.
Separate the sausage as it cooks, be sure to cook it thoroughly (test with a meat thermometer if necessary)
Remove meat from pan.
Cook eggs, then remove them from the pan.
Heat a tablespoon or two of vegetable oil with a 2 teaspoons sesame oil and stir in rice to coat it.
Add in green onions and carrots and cook for 2 minutes.
Add in scrambled eggs.
Serve topped with sesame seeds.
cooked rice- having pre-cooked cooled rice is key to fried rice, do not use warm rice. If you cook it before preparing this meal, place the rice on a shallow pan and place it in the fridge until it's cold.
Recipe by
Created by Diane
at https://www.createdby-diane.com/2017/09/chicken-and-sausage-fried-rice.html