Coconut Oatmeal Cookies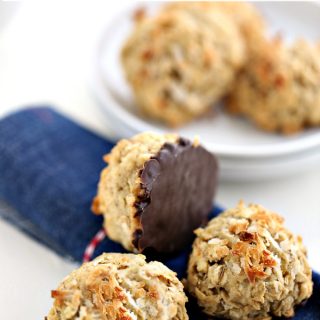 1/2 cup butter
3/4 cup brown sugar
1/2 cup sugar
2 eggs
1/2 teaspoon coconut extract
1 1/2 cups flour
1 teaspoon baking powder
2 1/2 cups old-fashioned oats
1 cup coconut
4 oz dark chocolate
1 teaspoon coconut oil
In large mixer bowl cream butter and sugar together.
Add in eggs and coconut extract and mix well.
Add in flour, baking powder and oats along with coconut and blend on medium until all combined.
Use a 3 tablespoon scoop for large cookies this will make 24 cookies.
You can place additional coconut on top of the cookie dough that will get toasty (about 1/4 cup additional coconut)
Bake onto parchment lined baking sheets at 350 degrees for 8-10 minutes.
Once cookies are baked and cooled.
Melt chocolate with coconut oil in the microwave for 30-second intervals until completely melted.
Dip the bottom of the cookies into chocolate and place them back on one parchment lined baking sheet and place in the fridge for a few minutes for the chocolate to set.