Chocolate Peanut Butter Cracker Toffee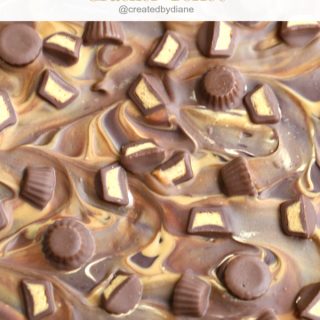 2 cups butter (1 lb.)
2¼ cups sugar
2 tablespoons water
1½ cups chocolate chips ( I used semi-sweet chips)
½ cup peanut butter
1½ cups tiny peanut butter cups
1 sleeve saltines crackers + a few more to fill the tray
In a ½ sheet baking pan (13x18 with a rolled edge) lay the saltine crackers in a single layer all over the pan.
In a medium heavy bottom saucepan, bring butter and sugar to boil, slowly add in two tablespoons water and remain boiling mixture until the temperature is 285 on a candy thermometer.
Spread toffee over crackers, then add chocolate chips and allow them to soften and melt for a minute then spread them out over the toffee with an offset spatula.
Microwave the peanut butter for 20-30 seconds until it's melted enough to pour and swirl over the chocolate (spread it with an offset spatula to mix it into the chocolate)
Top with tiny cut peanut butter cups and allow the toffee to cool completely before breaking into pieces. You can allow it to cool at room temperature, or put the tray in the fridge for 10 minutes or so until it's set up and cool then break apart or cut into pieces with a knife.
Recipe by
Created by Diane
at https://www.createdby-diane.com/2017/02/chocolate-peanut-butter-cracker-toffee.html