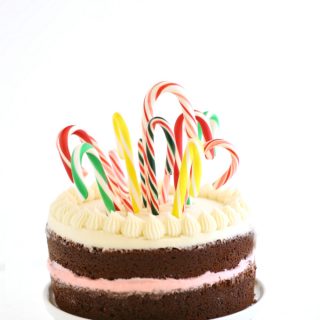 1 cup butter (room temperature)
4 cups powdered sugar
2-3 tablespoons heavy cream
1 teaspoon vanilla extract
2 drops pink food coloring
In large mixer bowl beat butter with sugar and add in heavy cream, vanilla until mixed smooth.
place ½-3/4 cup frosting to be tinted pink in a separate bowl, you can add additional flavors as well, such as peppermint extract ¼ teaspoon.
Spread the pink frosting on the first layer of cake, add the second layer, top that layer with white frosting and then pipe the edge with a star tip and add the candy canes on top.
It is best to add the candy canes to a chilled cake if you are not going to be eating it immediately as the weight of the candy canes will slide on room temperature cake that has not been chilled.